Out of the Lab and Into the World
Three NC State ECE faculty members are 2019 recipients of fund awards from Chancellor's Innovation Fund as they develop microneedle patches and fast chargers for electric vehicles.
---
August 15, 2018  
   NC State News
Groundbreaking research happens every day at NC State, and a growing number of important technologies are making the leap from lab to marketplace. It's no surprise that adequate funding is crucial to this transition.
While grants and other funding may initiate research and get the ball rolling, there's a real need for continued funding to take something from an idea and a set of data to a fully fledged market-ready product. That's where the Chancellor's Innovation Fund comes in.
Over the past eight years, the fund has awarded $2.6 million to 40 projects that have attracted more than $33 million in follow-on research funding — money given after the initial investment.
The funding enables NC State researchers to invest in testing and prototyping — critical for helping to prove market viability. Existing companies may choose to license the resulting research or prototypes, or developers may decide they want to launch a startup on their own.

"The Chancellor's Innovation Fund has proven one of NC State's most successful mechanisms to enable and catalyze researchers who are thinking about commercializing their research," says Wade Fulghum, interim executive director of NC State's Office of Technology Commercialization and New Ventures, which helps researchers get their discoveries and technologies into the right hands. "The selection process is ultra-competitive."
Recipients for 2019, including three faculty members from ECE, are tackling everything from blood-clotting nanomaterials and canine cancer vaccines to more efficient electric vehicle chargers.
Microneedle Patches for Painless Fluid Extraction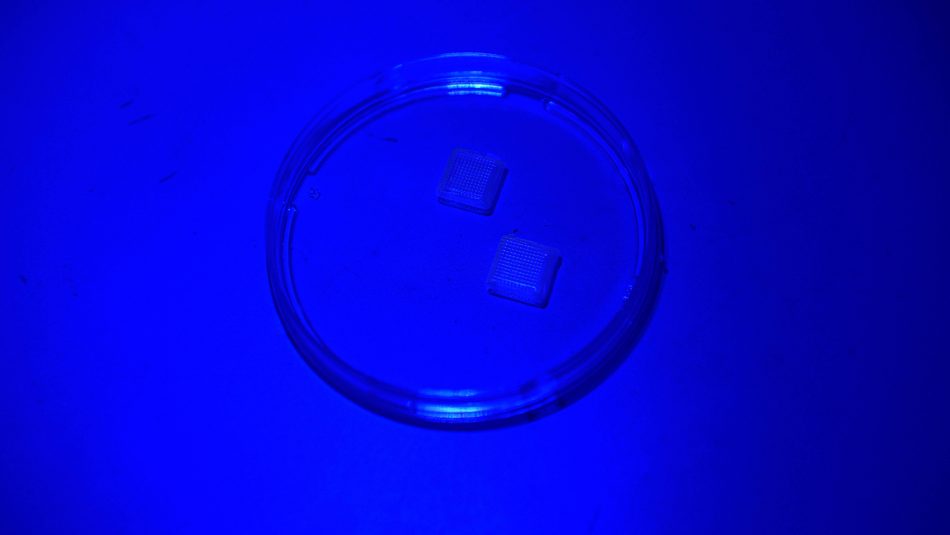 Michael Daniele, assistant professor in the Department of Electrical and Computer Engineering, and in Biomedical Engineering, has developed microneedle patches for biofluid extraction. Many diagnostic tests rely on blood, but interstitial fluid, or ISF, contains many of the same compounds in an easier-to-access form.
Standard ISF sampling methods are painful and risk infection. Daniele has developed swellable microneedles made with durable nanomaterials that successfully extract ISF by drawing it to the surface of the patches. Such painless and easy processes will eventually enable development of do-it-yourself diagnostics.
Funding from the Chancellor's Innovation Fund will go toward demonstrating an industry-specified rate of fluid extraction. Currently, the patches are being tested at 30-minute intervals for extraction, but researchers are hopeful that can be reduced.
Electric Vehicle Fast Chargers
Srdjan Lukic and Srdjan Srdic, associate and research assistant professors, respectively, in the Department of Electrical and Computer Engineering, have developed a prototype fast charger for electric vehicles. Sales for electric vehicles are climbing steadily, and nations around the world have signaled their commitment to the development of this new technology. As electric vehicles become more popular, there's a need for a refueling infrastructure similar to the network of traditional gas stations.
Lukic and Srdic have developed an efficient modular E.V. fast charger that is cheaper to install and operate than existing charging stations. It has a smaller footprint and higher charging efficiency, which will benefit both E.V. owners through faster and cheaper charging options, and charging station owners with cheaper installation costs, better site utilization and higher revenue.
The Chancellor's Innovation Fund will support efforts to develop a prototype for industry testing.
Original article from NC State News
Deputy Director, FREEDM
Distinguished Professor